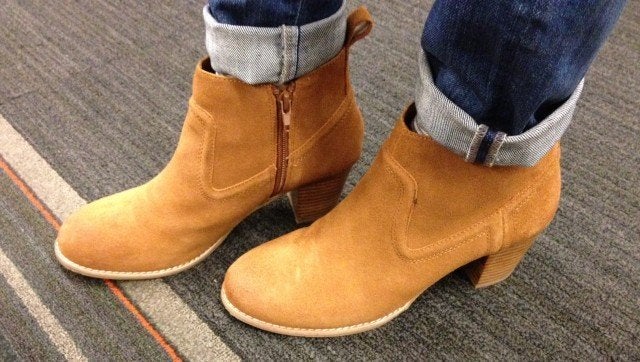 Fall signifies that it is boots and bootie time!
As summer turns into fall and the days begin to get shorter and cooler, it is time to start shopping for the latest and hottest fall line of boots and booties. After walking all summer long in open-toed shoes and sandals, it is unfortunately time to place your less encumbered and tan feet into those closed and restrictive fall shoes. Ouch! Hopefully an Indian summer may grace our presence and our feet can enjoy the freedom of sandals and flip flops for another month. However, having to wear closed shoes again is inevitable. With all of the new fall styles of boots and booties available this fall it is important to make sure your feet are properly manicured and supported. Blisters in the back of the heel, corns on top of the toes, ingrown toenails and arch cramps can come back to haunt you again.
How to manicure your feet at home and eliminate potential foot problems!
Blisters form on the back of your heel because of heel slippage, usually because there is too much room in the heel counter of the boot or bootie. Friction can build up from rubbing and before you know it there is a blister. It is always better to clean the area with an antiseptic solution first and then drain the blister instead of letting it resolve on its own unless they are very tiny. Applying an antibiotic cream after it has been drained and cleaned with a Band-Aid can prevent it from getting irritated. Blisters can get bigger if not treated properly and even get infected.
Boots and booties can also cause havoc with feet because of size and width issues. If you find a pair of hot boots or booties from your favorite designers -- i.e., Jeffrey Campbell, Michael Kors or Steve Madden -- and the store does not have your size, do not panic. Sometimes the shoes do not run their true size and a size 8 is really a 7 or 7 1/2. Placing a full length insole in the boot or bootie to take up some of the excess room is another way to try and make it fit better. Always buy a little larger if you have too, instead of too small! Buying too small or wearing shoes that have a narrow toe box can lead to ingrown toenails, blisters and painful corns on the tops of your toes. Finding shoes with a wider toe box will eliminate the potential for many of these little nuisances and can occur when wearing narrower shoe wear.
Ladies beware, boots or booties that have a 4- to 6-inch heel can cause arch cramps or muscle spasms in your feet because the pitch of the shoe is too steep or too much in a downward angle. Toes have a tendency to curl or grab the ground when walking and that can trigger a muscle spasm in the arch of the foot. The best way to try and prevent that type of problem from occurring is to place an arch support in the arch of the shoe to keep the foot from slipping forward or the arch from going into spasm.
Knowing how to customize your fall shoe wear will pay great comfort dividends as you navigate through the colder weather.