Christian Eriksen has shared a hopeful message on social media from his hospital bed, following his collapse in the middle of a Euro 2020 soccer tournament match over the weekend.
On Saturday night, the midfielder made headlines the world over when he fell to the ground while playing for Denmark in the European tournament, with doctors later confirming he'd suffered a cardiac arrest.
Since then, he shared a public statement thanking fans for their support, and has now posted a selfie on Instagram in which he's seen giving a thumbs up alongside a reassuring health update.
"Big thanks for your sweet and amazing greetings and messages from all around the world," he wrote. "It means a lot to me and my family."
Eriksen continued: "I'm fine – under the circumstances. I still have to go through some examinations at the hospital, but I feel okay."
"Now, I will cheer on the boys on the Denmark team in the next matches," he added. "Play for all of Denmark."
Denmark will play their second match in the tournament on Thursday evening, where they'll go up against Belgium.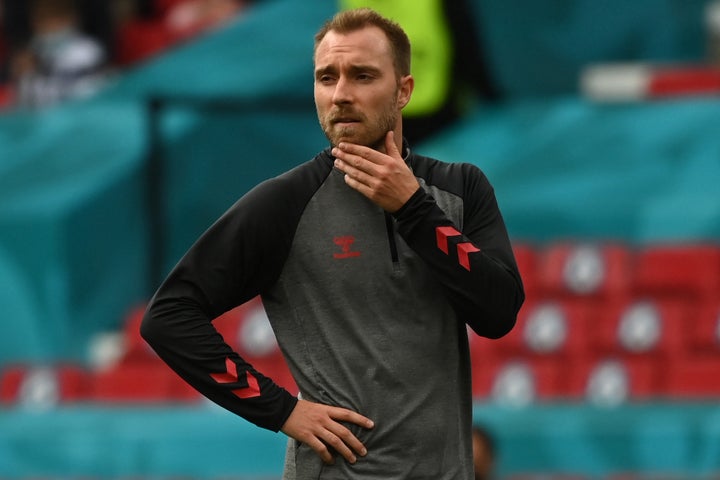 In a statement, Eriksen previously said: "Thank you, I won't give up. I feel better now – but I want to understand what's happened. I want to say thank you all for what you did for me."
Following Eriksen's collapse during Saturday's Euros game, the BBC faced criticism as many felt they did not cut away from the UEFA live feed quickly enough, with footage of the player receiving CPR as well as shots of his distressed partner being broadcast live.
"We apologise to anyone who was upset by the images broadcast. In stadium coverage is controlled by Uefa as the host broadcaster, and as soon as the match was suspended, we took our coverage off air as quickly as possible."