Andrea Mackris, one of the first women to accuse ousted Fox News star Bill O'Reilly of sexual misconduct, broke her silence ― and a nondisclosure agreement ― about the ordeal for the first time in an interview with The Daily Beast on Tuesday.
Mackris, who was a producer on Fox News' "The O'Reilly Factor" at the time, sued the conservative news personality for sexual harassment in 2004 and settled in an agreement that forbade her from speaking about her experience with O'Reilly.
"I may not get the past 17 years back, but there is one way I can retrieve my power from this storm of lies, loss, greed and grief," she told The Daily Beast . "It's the same thing I did back in 2004 before Fox, Bill O'Reilly and their teams of willing executioners bound me to a contract that promises to ruin whatever is left of me if I dare do it again. Tell the truth. Walk free."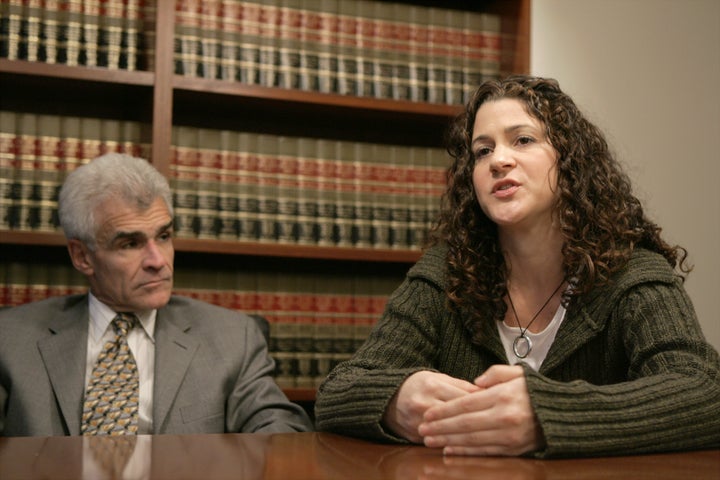 While some of Mackris's claims were detailed in the lawsuit, many were never made public until now, including a phone call she said was "the most chilling moment of all of Bill's multiple counts of harassment." Here's how she described it to The Daily Beast:
He was describing what I could expect next. That once we were alone in his hotel room I would get naked and he would get naked. He said I would sit in a chair facing the edge of the bed. He said I would spread my right leg over the right arm of a chair and my left leg over the left arm of the chair. He said I would masturbate facing him as he sat on the edge of the bed, naked and masturbating.

He said that it wouldn't be sex because we wouldn't be touching. He said I needed to suspend the fact that he was my boss. He characterized this 'little fantasy outlet' as 'healthy' for me and simply 'blowing off steam.' He said it would keep me in traction for the next guy I dated. He made it sound as if he would be doing me a favor.
Mackris was among the women interviewed in The New York Times' bombshell 2017 story revealing that O'Reilly and Fox News had settled five lawsuits against him dating back to 2002. In accordance with the settlement, she didn't speak then on what happened with the Fox News star, but her friends and family said she suffered post-traumatic stress disorder.
In a statement, a Fox News spokesperson said that "the claims outlined in this report took place under the leadership of Roger Ailes, who along with Bill O'Reilly and the management referred to here, have been long gone from the network," and that since Ailes's ouster in 2016, the network has "worked tirelessly to transform the company culture, including naming a new chief executive, tripling the size of our HR footprint, designating a new senior leadership team predominantly comprised of women and establishing a Diversity, Equity and Inclusion Council."
Mackris, in sharing details with the media now, is breaking her nondisclosure agreement and risking legal action. But the former producer ― who confirmed the settlement was for $9 million ― says O'Reilly had already violated the agreement by repeatedly disparaging her.
"That same document says Bill won't breach, which he's done over and over, calling me a liar," she said in Tuesday's interview. "It cuts both ways."
Mackris also said her attorneys pressured her to take the settlement, yelling at her and leaving her in tears the day she signed it. Several people, including her brother and her then-therapist, confirmed to The Daily Beast that Mackris felt steamrolled at the time. However, her legal representatives in the case ― who stood to make $3 million from the settlement ― said they do not recall Mackris's version of events.
When the courts unsealed O'Reilly's multiple sexual harassment agreements in 2018, critics noted that Mackris' settlement was highly unethical because it required her to lie ― even when under oath in legal proceedings ― if any evidence of O'Reilly's harassment became public and say it was "counterfeit" or "forgeries."
With Mackris's and other women's silence secured, O'Reilly soared to stardom at Fox News and was the network's most highly watched personality for years. The network fired him in 2017 after the revelations in the Times led to a massive advertiser boycott.