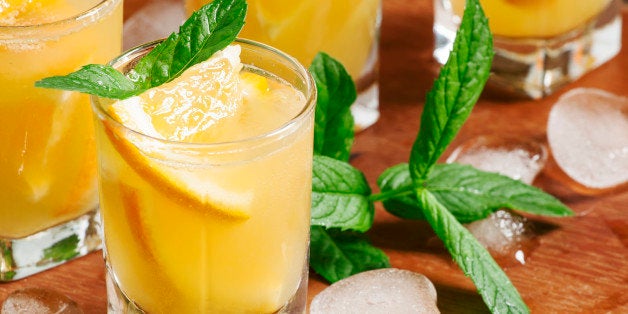 Looking to shake things up the next time you're eating out? Flip over to the cocktail menu for a handcrafted drink that'll add an exciting twist to your meal. Whether it's a splash of something smoky, a fruity concoction or a savory blend straight up or on the rocks, San Francisco is home to a cocktail fix for every taste. Here are 11 inspired beverages to experience in the City by the Bay:
Dive into several Italian-inspired options at Locanda, including the Aperitivo mixed with Campari, orange, lemon and Prosecco (an Italian white wine).
As easy to drink as it is on the eyes, The November Rain at Oro is a gorgeous mashup of tequila, Amaro Meletti (an Italian herbal liqueur), turmeric, lime and Angostura bitters.
A South American classic, the pisco sour is reimagined two ways at Mochica. The Chica Sour is made with Chica Morada (a sweet Peruvian beverage made from purple corn) and the Maracuya Sour with passion fruit reduction -- both shaken with fresh lime juice, simple syrup and egg whites.
Made with fresh grapefruit, gin, dry vermouth (a fortified wine flavored with botanicals like flowers, seeds and herbs), lime and Angostura bitters, the Grapefruit Gimlet brings a kick of flavor, sure to liven up the night.
Linger over Jardinere's Darkest Dawn -- an understated, sophisticated drink with rye, Barolo Chinato (a fortified wine), Nocino walnut liqueur and bitters.
Citrusy and bright, the Greyhound's Tooth at Spruce consists of Russian Standard Platinum Vodka, Bénédictine (a French herbal liqueur), grapefruit, lemon and grapefruit bitters for a refreshing wake-up call.
A classic cocktail that's hard to beat, the negroni at Spaghetti Bros. is made with Plymouth Gin, Campari and Cocchi Vermouth di Torino.
A perfect match for Myriad Gastro Pub's globally inspired comfort food, the Forbidden Lowball has Cardamaro (an Italian digestif flavored with herbs and spices), lime, ginger beer and Forbidden Bitters.


Go for a refreshing and complex sipper with the Bengali Gimlet, shaken up with Tanqueray Rangpur Gin, curried nectar and fresh lime.
For something a bit creamier, try The Mexican Dude, La Urbana's mix of homemade horchata (a Mexican beverage often made with ground almonds, rice, barley or sesame seeds), rum, Borghetti espresso-coffee liqueur and cinnamon.
Choose from an assortment of fun craft cocktails at Old Bus Tavern, including the Floating Decimal, made with mezcal, Ancho Reyes Chile Liqueur, watermelon and lime.